Few neighborhoods offer such an exciting mix of historic appeal and modern must-haves
Georgetown is known as one of D.C.'s most elegant and bustling neighborhoods—with an abundance of great shopping, delicious restaurants, and some of the most gorgeous, sought-after real estate in the city.
The former stomping grounds of historic figures like George Washington and JFK, this high-end pocket of D.C. is popular with tourists who want an intimate look at early American history. But the area also offers a thriving metropolitan experience for residents, especially around Wisconsin Avenue and M Street, where you'll find a variety of top-tier retailers and hip restaurants to enjoy.
Georgetown residents get to experience the best of what D.C. delivers: the trendy eats and cute boutiques newer parts of the city are becoming known for, alongside the classic feel of cobblestone streets and luxurious, historic homes. It's the best of both worlds, and that's why it maintains such a strong reputation as being among the city's most excellent neighborhoods.
If you're interested in luxury homes in Washington, D.C., we've compiled a list featuring just a few of the reasons you should consider calling Georgetown home.
History All Around You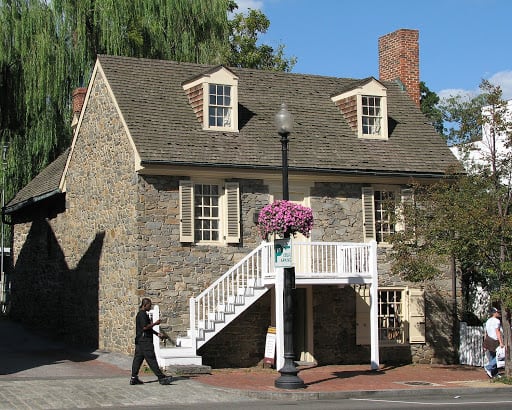 The Old Stone House. Photo: Wikimedia Commons
Georgetown was named in honor of King George II and got its start as a small shipping port for tobacco thanks to its convenient location along the Potomac River. Though it has long been incorporated into the capital at large, it has always maintained its own unique flair and culture from its days as an independent city.
Teeming with history at every turn, the area has been home to many notable American figures and celebrities across the decades, including names like Francis Scott Key, Richard Nixon, and Elizabeth Taylor.
Numerous historic homes can be found in Georgetown, including many available for viewing by the public. The Old Stone House, built in 1776, is the oldest structure still on its original foundation in D.C. and is now owned by the National Parks Service. They operate the home as a museum which is open to visitors daily from 11:00 AM to 7:00 PM. Other historic homes available for touring include the picturesque Tudor Place, built by a granddaughter of Martha Washington, and the Dumbarton House, where you can view exhibits that provide insight into early American culture and customs.
Georgetown residents are also just a quick trip away from D.C.'s other major landmarks, including the White House, National Mall, Smithsonian museums, and countless other historic sites and properties.
World-Class Cuisine
Georgetown is home to enough restaurants to satisfy any craving. For lunch, you can enjoy giant deli sandwiches at Stachowski's Market or vegetarian favorites at Chaia Tacos. Then for dinner, pop by Martin's Tavern, which has been a favorite for classic American dishes since 1933 and is reportedly where John F. Kennedy proposed to his eventual wife, Jackie. Or for something more European, try the classic French dishes at La Chaumiere.
Don't forget dessert: head for M Street and stop by local favorite Baked and Wired for artisan cakes and pastries, or visit the famous Georgetown Cupcake. Just off Wisconsin Avenue, enjoy ice cream or some fudge at Thomas Sweet, a staple for those with a sweet tooth.
Many foodies across the D.C. and Virginia region also look forward to attending the annual Taste of Georgetown food festival each year. This event draws big crowds and features the best of the area's restaurants, bakeries, and bars coming together to celebrate great cuisine, all in support of the Georgetown Ministry Center and their work to help local residents in need.
Vibrant Nightlife
Though you wouldn't know it from its quiet residential streets and refined neighborhoods, Georgetown's center is one of D.C.'s most popular nightlife destinations. Mainstays like Rhino Bar and The Tombs (which was portrayed in the film St. Elmo's Fire) are popular spots for students and locals alike to relax over drinks and enjoy the lively atmosphere.
On D.C.'s cool, breezy nights in the summer months, residents and visitors flock to waterfront bars and restaurants like Tony and Joe's and Sequoia to enjoy the evening with a view of the river.
If you want to experience some live music, Georgetown has atmospheric venues where you can sip on cocktails and take in the show. Blues Alley, modeled after a speakeasy, and Georgetown Piano Bar are two local hotspots for jazz and other musical performances.
Days on the Potomac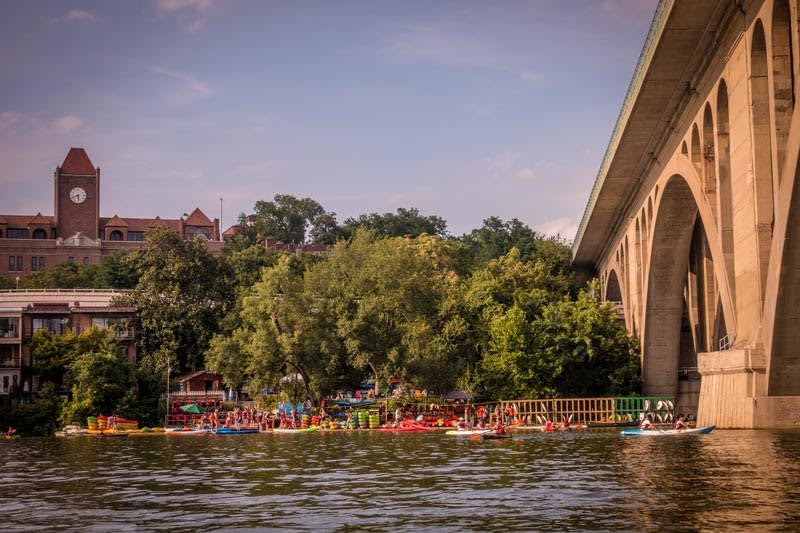 Potomac River. Photo: Sam Kittner / Georgetown BID
The Potomac River is a defining feature in much of D.C., but particularly in Georgetown—where the Washington Harbour and tons of waterfront activities provide endless entertainment for visitors and local families. On those hot summer days, the river's cool breeze can be a lifesaver.
Enjoy weekend brunch with a view of the river at Fiola Mare, gaze out at the boats while you walk along the water at sunset, and enjoy a variety of activities like paddleboarding and kayaking through the iconic arches of Key Bridge. You can even take a ride on a pedal boat with friends, providing fun for kids and adults alike.
In the winter, the Harbour's iconic fountain is converted into an ice skating rink—one of the largest in D.C.—making the waterfront a year-round, must-see destination.
A Renowned University

Healy Hall. Photo: Georgetown University
Founded in 1789 by Bishop John Carroll, Georgetown University is a private research university with a student body of around 20,000. Thanks to its stellar academic reputation—especially in the fields of business and engineering—it has become one of the most selective universities in the nation, only admitting around 15% of its applicants each year.
The university has had an indelible impact on the community surrounding it. The beauty of the campus alone makes it a popular spot for walking tours or self-guided strolls to take in the architecture of buildings like Healy Hall and the lush gardens of Villa Le Balze. More crucially, the mix of long-time residents and young students in the neighborhood keeps its culture fresh and exciting, attracting trendy businesses and helping to grow the local art and music scenes.
Aside from the career opportunities its proximity provides to residents, the university also offers an inexpensive community learning program for residents 55 and older—a great chance for lifetime learners to continue their passion for education with some of the most accomplished professors in the world.
Top-Tier Schools
Parents will find no lack of great opportunities for their children's schooling in Georgetown— something that's important to the highly education-oriented population of D.C. Woodrow Wilson High School is often considered to be one of the best public high schools in the city and is also one of its most diverse. Some of the many private options include Georgetown Visitation Preparatory School and Holy Trinity School.
Georgetown is also home to many art programs for both children and adults. You can sign up for a painting class at the Winter Palace Studio and kids can learn a variety of mediums at Anna Banana Arts and Crafts.
Great Ways to Keep Fit
Walks and jogs along the waterfront or the historic C/O Canal are a scenic, easy, and free way to get your heart rate rising, but Georgetown is also home to an incredible array of options for those who want to take their fitness to the next level.
Definitions Fitness Studio, barre3, and SoulCycle are all centrally located, making them popular choices for those who turn to classes to help keep in shape. Whether you occasionally hit the gym after work or want to book appointments with an experienced trainer, the walkability and convenience of living in Georgetown will make you more inspired than ever to reach your fitness goals.
Most of Georgetown is also incredibly cyclist-friendly, with easy rentals available and tons of accessible racks to secure your ride when you take a juice or smoothie break.
Retail Paradise
Georgetown offers a rare mix of high-end storefronts, go-to national retailers, and independent boutiques. Fashion lovers flock to carefully curated shops like Lynn Louisa and rag & bone, as well as popular retail staples like Patagonia and Urban Outfitters. Avid readers can explore The Lantern Bookshop and Bridge Street Books, both of which have an excellent selection to browse on a quiet afternoon.
Unbeatable Properties
Houses for sale in Georgetown, D.C. include breathtaking historic properties, charming row houses that D.C. is well-known for, and renovated condos with luxury amenities. Whatever size, style, or price point you may be aiming for, there are plenty of options tucked away in Georgetown's neighborhoods waiting to be discovered by the perfect buyer.
Whether you already know what you're looking for or simply want to learn what options are available, our expertise can help make the home-buying process as seamless as possible. If you're ready to experience the Georgetown lifestyle for yourself, we can find the right home for you. Contact us today.