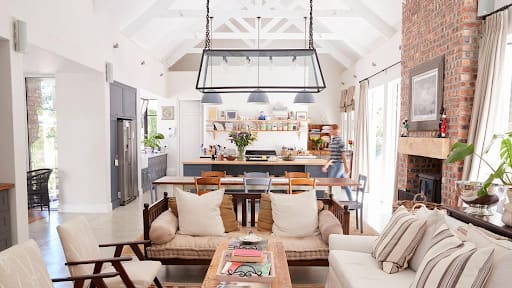 These are the features and fixtures today's homebuyers are looking for. Getty Images

Every homeowner looking to sell works hard to make sure their homes look their absolute best.This year, that effort could be crucial to getting top dollar. Though Realtor.com forecasts a continued a seller's market, slower home price growth and rising mortgage rates will lead to lower demand — and fewer bidding wars.

But what upgrades do homebuyers want in 2019? Most are looking to purchase a move-in ready house, according to a 2018
RE/MAX brokers report, so sellers who've made timely, trendy home improvements will have a competitive advantage.

Here are six quick and easy home improvements you can make to help you get the best selling price.

1. REPLACE CARPET WITH HARDWOOD
Many homebuyers favor hardwood floors over carpet. But you don't have to go broke installing new flooring throughout your entire home. Focus on the family or living room; that's where people tend to spend most time of their time. The average homeowner spends about $4,386 to install wood flooring, according to Home Advisor. A warm brown or light gray stain offers a modern look that opens up the room.
Demand for smart home devices is heating up.
2. PAINT KITCHEN CABINETS
One way to make your kitchen pop is by painting the cabinets a bold color. Homes with tuxedo kitchens, where light-colored upper cabinets are paired with dark navy or black lower cabinets, correlated with higher selling prices, according to Zillow. This project won't break your bank, either. Repainting kitchen cabinets only costs about $1,000 if you hire a professional, HomeAdvisor says; you can lower costs by doing the work yourself over a weekend.
Alternatively, go farmhouse-chic and install a patterned backsplash that extends to the ceiling. It could give your kitchen the boost it needs.
3. ADD A SMART THERMOSTAT SYSTEM
Demand for smart home devices is heating up: An ABI Research report predicts that the global smart home market will reach $123 billion by 2022. But for you in 2019, that means installing a smart thermostat — a device that lets you adjust your home's temperature from a mobile app — can make your home instantly more attractive to buyers.
One to consider is the Nest Learning Thermostat ($249). It has all the bells and whistles, including motion sensors that can detect where you are in the home, to adjust the temperature in unoccupied rooms and lower energy costs. Another highly rated option is the ecobee4 Smart Thermostat ($240), which has a built-in Amazon Alexa that lets you use voice commands to adjust the temperature, play music, set a timer and use other Amazon Echo functions. 
4. DESIGN A STATEMENT CEILING
HGTV.com recently declared that statement ceilings are one of the hottest new home design trends. Installing raised beams or a coffered ceiling around lighting fixtures can make the space pop. This will likely cost several thousand dollars, depending on the size of your space, but it could be worthwhile: A RealEstate.com analysis found homes with exposed beams or coffered ceilings sold for 26 percent to 29 percent more than expected. For a less costly and time-consuming option, opt for paint or removable wallpaper.
5. INSTALL TERRAZZO TILES
Traditionally made from a combination of marble, quartz, granite and glass chips suspended in a polished cement, terrazzo tile — an Art-Deco style popular during the 1920s to 1940s — is back in fashion. This long-lasting tile is a good choice for a contemporary shower stall. Focus on the master shower for the biggest impact. Terrazzo floor tiles cost roughly $20 to $70 per square foot, according to ImproveNet. Because terrazzo can be slippery when wet, have your contractor apply non-slip additives to the floor.
6. SET UP A SMART HOME SECURITY SYSTEM
Just 17 percent of consumers said they own smart home security devices, and 14 percent said they either plan to or would consider buying one, according to a recent PCMag survey. Installing a smart home security system before you put your house on the market gives homebuyers peace of mind knowing their surroundings are protected by an extra layer of technology. Smart home security devices include smart locks and doorbells, outdoor cameras and motion sensors, among other gadgets.

Splurge for the Protect Package from iSmartAlarm ($484), a home security system that comes with six contact sensors for doors or windows, five motion sensors for rooms and hallways, and three remote tags for in-home control.


By Daniel Bortz